Whether you run an online or a brick and mortar business (or are contemplating entrepreneurship), are looking to change people's lives and ways to increase your well being, performance, revenue and profitability, then keep reading.
As a High Flow Performance Mentor for entrepreneurs and business professionals, Miguel Franco lives what he teaches.
He loves to support his clients and students in the process of engaging wholeheartedly with their projects so they can build a life and business that inspire and energize.
He also loves to show how the science and practice of heart/brain coherence can be used to generate High Flow States at any age, improving cognition, well being and performance. 
In order to role model his teachings and mentoring, and also evolve his consciousness engineering framework in the process, he challenged himself to do something that many would consider impossible for a 67 year old because of the MYTH of cognitive and physical decline associated with aging. 
He started competing in the challenging world of Kart racing, which he briefly did as a teenager. The passion for the sport remained with him, so he brought it back into his life.
Passion, when embodied and developed, overrides the struggle usually associated with effort, bringing more ease into any endeavor, old and new. Its effects can spill over to many areas of one's life and create coherent Experiences, which result in High Flow States. 
And to succeed in the journey of becoming a High Flow CEO you'll need a step-by-step methodology, an underlying science based framework, be committed to a regular practice and the guidance of a supportive, compassionate and experienced mentor and community.
Welcome to The Drive To Win project! 👊🏁
Ayrton Senna, whom Miguel raced Karts with, is considered by his peers across generations as the greatest Formula One driver of all time. He always affirmed that Karting is motorsports in its purest form. 
Every Formula One driver started out in Karts, and many do Karting as part of their training routine. They all agree with Ayrton. The challenge is real!
Miguel Franco is also using the challenge that Karting offers to showcase his High Flow Performance technology as he is competing against younger and very experienced drivers. The technology allows access to the SuperConscious mind and to what he calls The Drive To Win frequency.
The Drive To Win frequency is where desire meets focus, confidence, discipline and resilience. It's a frequency where passion drives the action and can take us beyond flow states and into High Flow.
When you infuse your Experiences with The Drive To Win frequency, you eliminate the struggle, the anxiety and the uncertainty feeling that is often present when creating something new.
You stay more present, inspired, creative, confident, courageous and committed to pursue what matters most to you, transforming inertia into flow, and thoughts and feelings into the manifestations of your desires.
You also don't need to work on yourself to find your limiting beliefs, traumas and unproductive behaviors to reprogram your subconscious mind. When you become coherent with your SuperConscious on a regular basis you can bypass such processes which will save you a lot of frustration, time and money.
According to Miguel Franco's framework and its powerful methodology, when we embody the vibrancy of our highest frequencies, our creative impulses flow through us without resistance.
Life becomes a playground for ecstatic Experiences, and new ideas and possibilities open up for us.
One of the many goals for The Drive To Win Project co-sponsored by BUZZCUBE.io is to demonstrate how passion can be accessed and embodied through pre-cognitive states, which can enhance decision making, performance and well being while decreasing cognitive fatigue and dissonance.
We can reprogram our subconscious and re-pattern our brain by transforming the frequency they are vibrating at. We can access our SuperConscious which transcends the subconscious identities that shape our lives.
Instead of hacking belief structures, reframing and other brain based approaches (which can be helpful in some cases), we can tune into our intuition in order to feel more engaged and turned on by our daily activities, allowing flow states to naturally emerge. And in the process, we let go of outdated patterns of thinking, feeling and behaving that no longer serve us.
This is a powerful and effective way to transform our life and business from the inside out.
When coherent with your SuperConscious, you can transcend your neurology and psychology to outperform your subconscious structures and patterns, and redefine what's possible for you in your life and business, regardless of your current situation and age.
As you stay coherent with your SuperConscious throughout the processes of transforming your current realities, you create more Coherent Experiences which produce more joy, enthusiasm, freedom, happiness, fulfillment, desire, abundance. They are vibrations with higher frequencies. The more we validate them, the stronger they vibrate in our present reality.
When your Experiences are also coherent with each other in every aspect of your life and business, you create a state of High Flow, which vibrates even if you have "bad days" or are ill or out of flow for a while.
High Flow States are atemporal and multidimensional.
Sustaining High Flow States throughout life can also help improve your biology, emotional regulation, skillsets, mindsets, resilience, intuition, memory and focused attention, so you can identify new opportunities and pursue them with more enthusiasm, certainty and confidence.
And most importantly, you evolve and thrive while experiencing joy in your heart.
Passion always wins!
You raise your performance, revenue and profits without burning yourself out in the process.
This is what being a High Flow CEO is all about.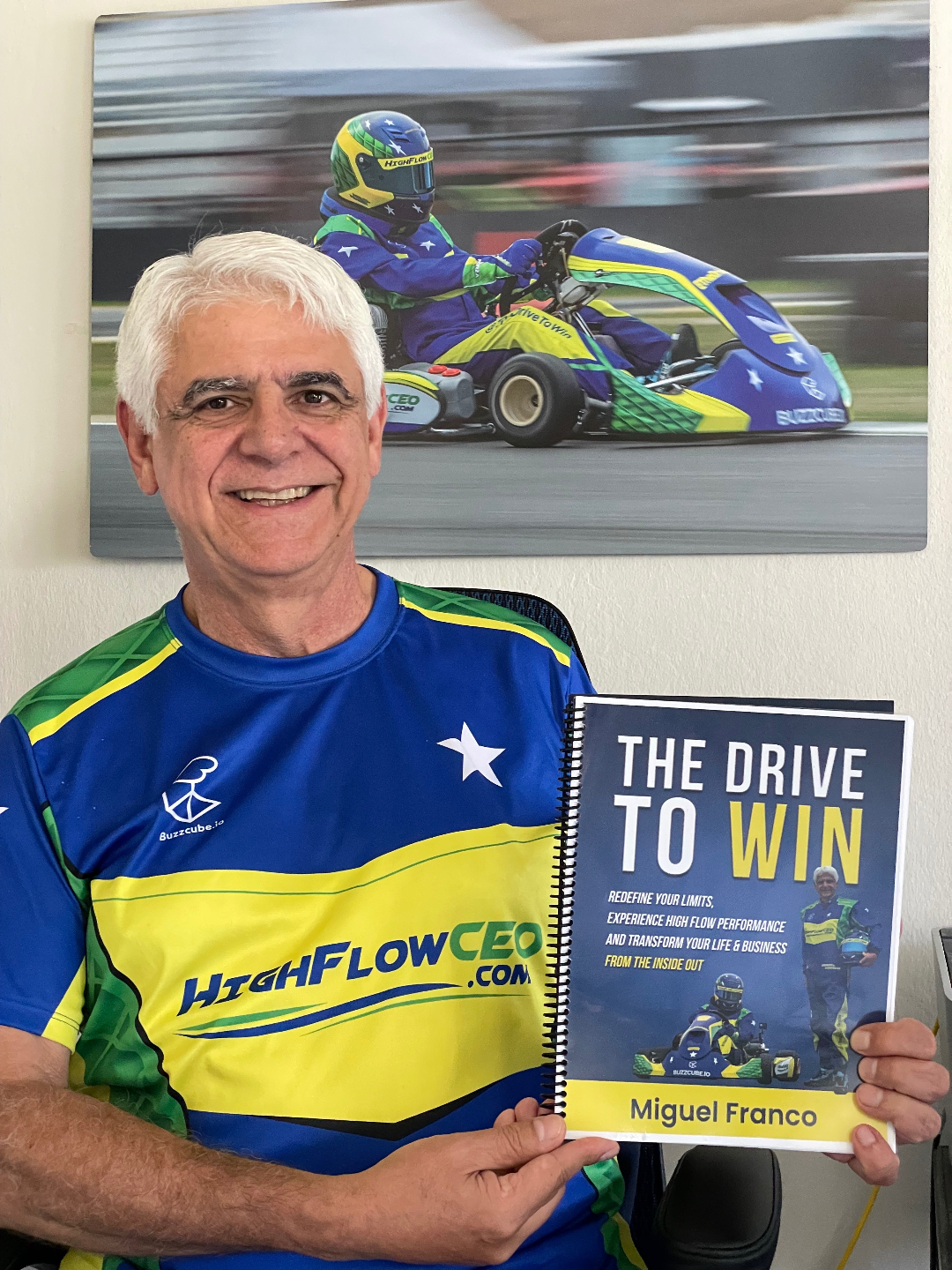 "The more we are able to understand

Consciousness

as the precursor of all

Experiences

, the more we'll be able to transform our Experiences and our current

state of Consciousness.

"
Miguel Franco
BUZZCUBE.io
Founded by Matt Treece, a High Flow CEO member, Buzzcube is an on-demand, scalable graphic design & web development service designed to help you bring your creative visions to life with ease. Say goodbye to the hassle of managing multiple tools, freelancers or even hiring in-house – Buzzcube offers a streamlined solution that adapts to your needs all for one-flat (affordable) monthly rate. Perfect for corporations, small businesses, start ups and agencies alike.
Try them out risk-free! And say that you have The Drive To Win for a special discount!
"As a High Flow CEO, you can intentionally build your business empire around your life rather than have your life revolving around your business, which can fragment your energy causing unnecessary stress, trauma, anxiety, self doubt, fear, procrastination and overwhelm, regardless if you are being successful or not."
Miguel Franco
Matt Treece 
Online Entrepreneur
"Miguel helps you get to the essence of what you really, really want and empowers you to get into a state of consciousness that makes it effortless or feels effortless to achieve it!
It made me realize, okay, I can do this."
Wendy DeWitt 
Performing Artist
"Miguel's approach is very effective and his logic is impeccable. 
Using the system I discovered within myself what I needed to stay passionate and focused about doing the work that's important to me."
Daniel Dalarossa 
Silicon Valley Founder
 "I highly recommend Miguel Franco for individuals and organizations, not only because he has lots of experience on what he does or because he has developed an incredible framework in the field called Core Interactions Theory, but mainly because he produces results."
"Miguel's insights and tools were very helpful in my career. I used them to stay focused and confident on and off the race track. The intentional visualization exercises helped me with concentration and performance and our talks fueled my drive to win."
Roberto Pupo Moreno
Former Formula One and winning IndyCar driver. 
Former Formula 3000 World Champion.
Team up with us!
Miguel Franco's sponsorship packages are also focused on developing the human potential within organizations. Learn how Miguel used auto racing to help RAYOVAC®'s employees embody the company's vision and mission through intuitive approaches that also improved performance and well-being.
The RAYOVAC® PROJECT >>>